Halmark Playhouse - Old Time Radio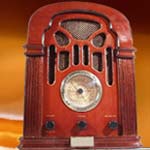 When you care enough to send the very best."
The Hallmark Greeting Card Company sponsored several shows during the heyday of radio. A predecessor to the ever popular and celebrated Hallmark Hall of Fame, the Hallmark Playhouse first aired on June 10, 1948, and ran until February, 1953 when it morphed into the Hall of Fame. Well respected bestselling British novelist, James Hilton, was intent on bringing classic literary works to life that would feature top-notch acting talent. He was in charge of selecting the works that would be adapted for radio, and served as host, as well.
Hilton chose The Devil and Daniel Webster for its opening show. It received wide critical acclaim, and set the standard of high quality for the rest of the series. Other dramatizations included Arrowsmith, Goodbye, Mr. Chips, The Lost Horizon, The Courtship of Myles Standish, The Long Winter, and Cinderella (starring Judy Garland) as well as lesser known literary works to which listeners would not otherwise have had easy access.. The casts featured such notables as Bob Hope, Gregory Peck, Irene Dunne, Herbert Marshall, and Ronald Coleman.

There are 90 shows in our collection!
Date Aired
Room For A Stranger
December 19, 1946
The Story of Babe Ruth
February 24, 1947
Arrowsmith
October 14, 1948
Mrs. Parkinson
October 21, 1948
O'Halloran's Luck
October 28, 1948
My Friend Flicka
November 4, 1948
Wild Swans
November 11, 1948
My Financial Career
November 18, 1948
Free Land
November 25, 1948
Old Man Minick
December 2, 1948
Woman with a Sword
December 9, 1948
The Desert Shall Rejoice
December 16, 1948
Elmer the Great
October 7, 1948
Captain January
September 23, 1948
Goodbye, Mr. Chips
September 16, 1948
Mrs. Union Station
June 17, 1948
Unless Love Is Music
June 24, 1948
Penny Serenade
July 1, 1948
Pride and Prejudice
July 8, 1948
Girls Are Like Boats
July 15, 1948
The Citadel
July 22, 1948
Afterward
August 5, 1948
The Old Nest
August 12, 1948
Drums Along the Mohawk
August 19, 1948
Cimarron
September 9, 1948
AND MANY MORE



Other Vintage Radio You'll Like:
Try these other Old Time Radio Shows out for size!